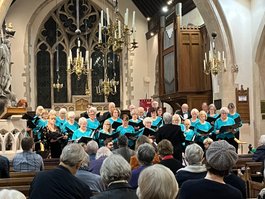 Our spirit rejoiced! On Saturday 18th March the choir sang before an appreciative audience in the lovely old church of St Bartholomew's, Otford. Accompanied by the Abbey Quartet and Peter Young on the organ, the uplifting programme included Mozart's Laudate Dominum with soloist Amy McEnroe, Haydn's Te Deum and the Magnificat originally attributed to Pergolesi. The Abbey Quartet performed works by Mozart and Haydn and our Musical Director Sara Kemsley played a Sonata for flute by Handel.
Our next concert is on 13th May at St Edith Hall, Kemsing. The entertaining programme has a theme of 'Exploration and Discovery', to mark some interesting anniversaries in 2023. We will be including a brand new work by Peter Young about the discovery of the fossil handprints of children in Tibet.
A medium-sized, mixed choir, we sing a wide range of good music from the classical, modern and popular genres. Why not come to one of our concerts or consider joining us as singer or supporter? Read all about the choir here,or watch Sara's video below!